5 Ways to Entertain the Kids this Holiday Season!

1. Christmas Treasure Hunt
This is a great way to get this kids running around and playing for a bit! First, collect your items to hide. These could be candy canes, chocolates, lollies, cookies etc. Now, we have to make the clues. Scroll down to our More tab down below to find some of our clue ideas. Place these clues around the house and get your hunt on!
2. Present Wrapping in Santa's Workshop
Getting kids to wrap presents is a difficult mission, but… not with this game. Our Santas Workshop wrapping game is perfect to get the little ones involved this Christmas. First, tell the kids that they are in Santas Workshop. They are the little elves who must wrap all the presents before midnight! Show them how to do one first, then let them try it out. Play some Christmas music, dress as Santa (if you want to go all out) and get them having fun with you. That's what Christmas is all about!
3. Gingerbread House Decorating
This is a great one for those of us that need an hour of free time to get at least one thing ticked off the floor length list we all have this Xmas time. You can buy houses from Big W ($10), Kmart ($10) and Target ($20) and leave the kids to create their own magical gingerbread houses.
4. Christmas Bingo
Why not spice up the day with some fun Christmas Bingo! It's easy to download free templates off the internet! This is a great Christmas Eve or Christmas party game for everyone… not just the little ones!
5. Make Christmas Cookies for Santa
Christmas cookies for Santa to eat are always a fun tradition. Get the kids involved by buying either the easy peasy pre-made cookie dough and getting them to roll it up and chop it into cute pictures. A great way to make it more fun is to let them make whatever they want with the dough. Little reindeers, a fat Santa or Christmas Tree.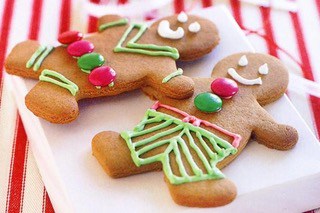 Christmas Treasure Hunt Clue Ideas:
THIS PLACE IS COLD AND STORES YUMMY THINGS.
WE WATCH TV HERE.
YOUR NEXT TREASURE WILL BE FOUND IN A PLACE WHERE YOU BRUSH YOUR TEETH.
YOU EAT DINNER HERE.
WE KEEP CANNED FOOD HERE.
MUM/ DAD WORKS HERE (HOME OFFICE IF HAVE ONE)
I AM HIDING WHERE YOU KEEP YOUR TOYS
I AM USED FOR COOKING SAUSAGES AND STEAKS (BBQ)